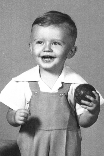 Terry Gliedt
E-mail:
tpg@hps.com
I had a terrific career with IBM where they let me do most anything I wanted. I always told my kids that IBM paid me lots of money to do something I would have paid them to let me do. In 1993 when IBM said "go away and take this money", I thought I'd better do as they said.
After several other jobs, I landed in Biostatistics at the University of Michigan where I spent a delightful and rewarding 13 years with them and formally retired at the end of 2012. As with many university positions, I didn't quite completely leave, but continue as a part time contractor. Every six months I ask my boss if (1) he has money, (2) he's willing and (3) I'm willing. Three 'yes' votes mean I stay on for a bit longer.
We always had a goal to live abroad and have felt especially fortunate to be able to live in Germany ('73-75), England ('81-83), and Singapore ('98-99). Now we've set our sights on 'down under'. Some day...
Personal Projects
While living in the U.K., I wrote a dictionary called United Kingdom English for the American Novice which has has been dormant for 15+ years and is dated, but seems to still amuse a few people. Go figure :-)


Exploring my family tree. A distant cousin has written a history of the Gliedt family dating back several hundred years. I volunteered to digitize several hundred pictures (~150MB). I need to add a good search engine for this and add indexes for all those pictures. If you are a Gliedt, I'd like to hear from you.


We've lived abroad three times now and we find living in other cultures very appealing. Our most recent adventure was in Singapore which was documented in a long series of letters called, Reports from Tomorrow