What'd You Do On Vacation, Terry ?
Terry Gliedt Battles the Colorado River
Well, it all started out pretty simple. Mary & I spent a week at a ski resort just outside Winter Park, Colorado. After spending most of the week being extraordinarily lazy, I decided I needed some excitement. Unable to talk others to go with me, I signed up to go by myself on a white water rafting trip down the Colorado River. I've done this a number of times and have greatly enjoyed it. Why should this be any different?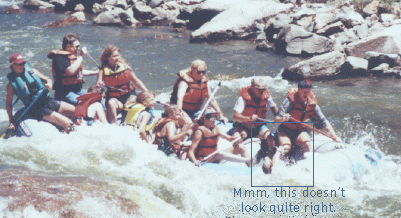 Colorado had a terrific amount of snow in the spring and early summer of 1995, so the rivers were high and fast. I didn't intentionally choose an especially difficult run, but I did get a bit more water than I intended as you can see (78K).
Suddenly the raft disappeared and I found myself downstream ahead of the others. After I remembered to breathe, it wasn't too bad. Then my foot touched a rock and I remembered the "lessons" we had gone through about facing down stream. When the raft veered away from me and I started to get really really cold (this took maybe 3.4 seconds), I cleverly decided it was better to get off this particular highway and I moved to shore. 'Course "shore" was a verticle cliff, but at least the water was moving slower than where I had been.
I was picked up (by another raft), but I was pretty tuckered out. We made for shore (and lunch) where I had time to recover and kiss the ground. All in all, this wasn't the most successful raft trip I ever took. Am I glad I went? Sure. But I'd recommend you (and I) follow the guide's advice when the trip starts - All in all, it's better to stay in the raft.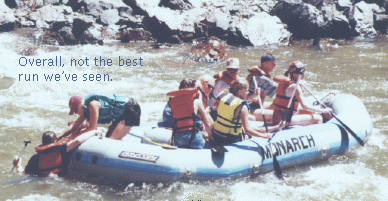 Come visit Colorado, - the water's fine!